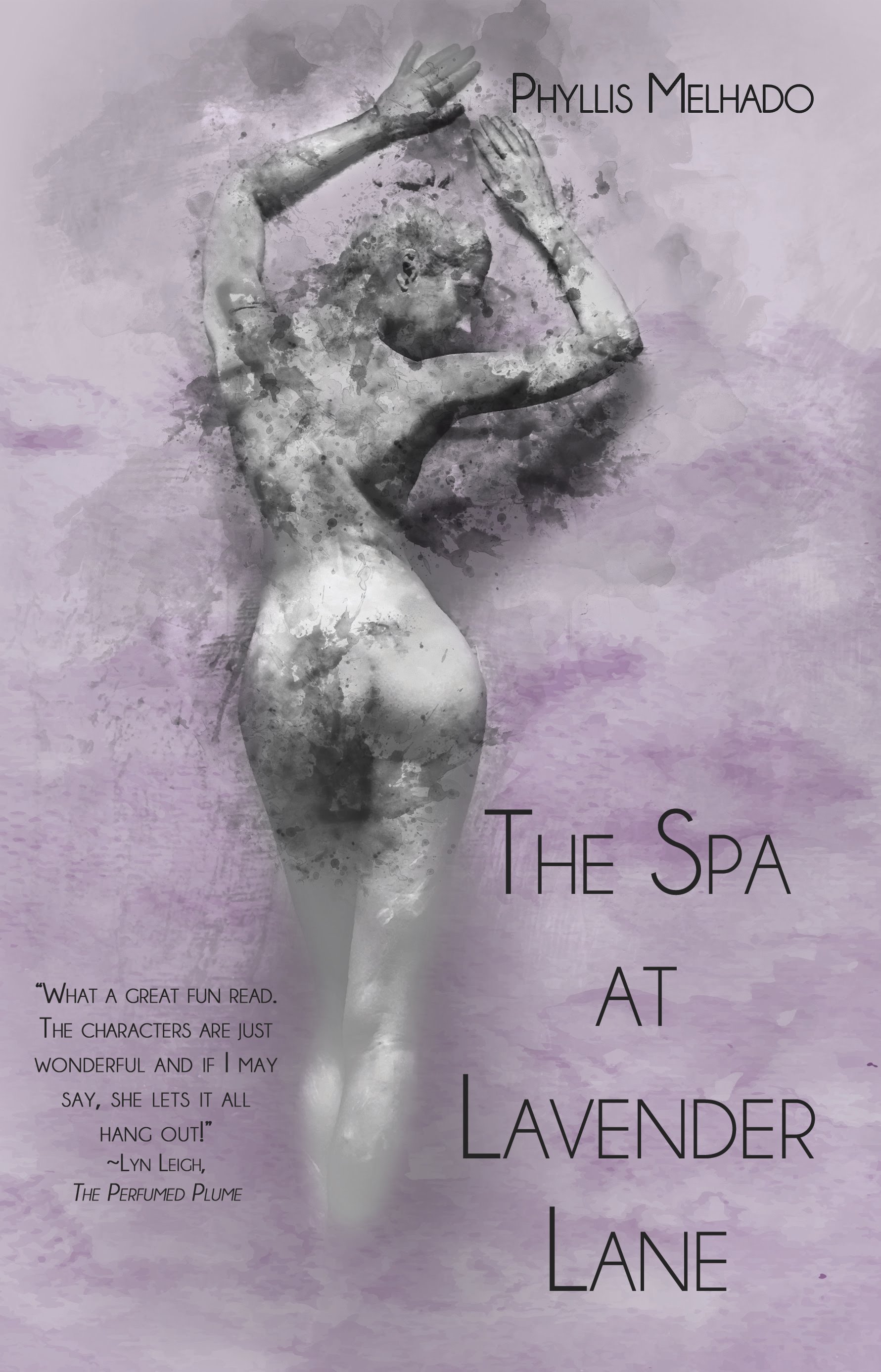 Date Published: May 7, 2020
Publisher: Black Rose Writing 
Take a peek behind the curtain of wealth and glamour in Phyllis Melhado's sassy and sultry beach read. The guests who arrive for a 10-day stay at the nation's premier spa at Lavender Lane seem to have everything a girl could want: high-flying careers, social and financial prowess, access to the top fashions and beauty products, and even a dash of fame. Yet each woman is in need of rejuvenation from insecurities, flatlined business motivation, or failed relationships – problems that will require more than the spa's renowned anti-aging quince cream to fix. As the women learn to trust one another, they each figure out how to take a second chance at life, and reclaim what's most important.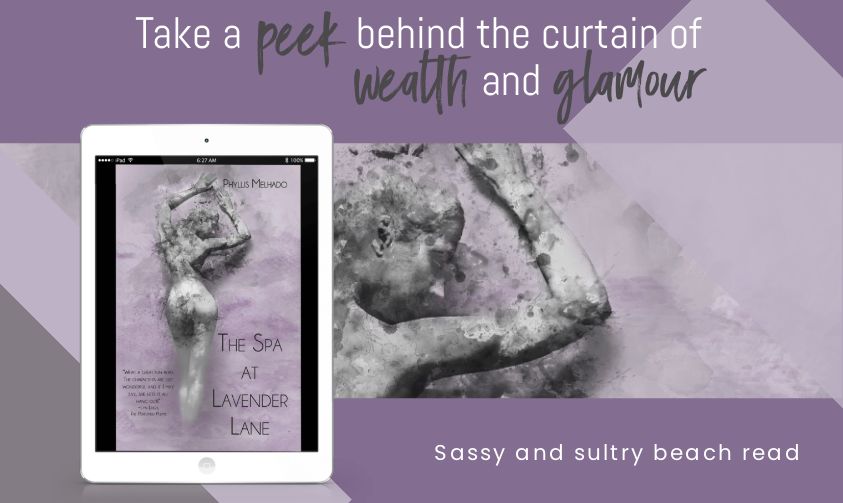 The former Vice President of Public Relations for Estee Lauder, Phyllis Melhado has had her work published in Town & Country, Cosmopolitan, and The Scarlet Leaf Review. She has also ghosted a best-selling beauty book as well as a nationally syndicated beauty column. She earned her Master's degree in Communications from NYU and lives in New York City. The Spa at Lavender Lane is her first novel. To learn more about Phyllis and her work, visit https://www.phyllismelhado.com.
---
Chapter 1
        From behind the gilded two-way mirror in her elegant atelier office, Nadia Demidova could monitor everything that was going on in the sunny reception salon below. Spying on her clients was a questionable tactic, she knew full well, but it had proved to be an extremely useful one, nonetheless. She had learned early on during her twenty-five-year reign as mistress of Lavender Lane, one of the world's most exclusive spas, that the difficult guests could be counted on to reveal themselves the moment they arrived.
Petite, feminine and still quite attractive at seventy-three, Nadia leaned over and peered through the glass, hoping the new ten-day session would be devoid of problems. She was in no mood to cater to yet another batch of prima donnas. Pressing personal issues were making it difficult to muster her legendary client concern.
So far, so good, she thought with relief. Most of the women had already checked in, and all seemed to be going well—unlike the last session, when the wife of an esteemed senior senator arrived thoroughly inebriated and had to be restrained and sobered up before being driven to the Palm Springs airport and deposited on a flight home. Minor substance abuse was one thing. Many of her clients, most notably the Hollywood types, suffered from such problems. But full-fledged, public display of addiction was quite another. She had created the gold standard for rest, relaxation and the rejuvenation of mind, body and spirit. As far as Nadia was concerned, if a client couldn't control her serious self-destructive urges, she could go straight to the Betty Ford Clinic.
She watched as a striking, tall woman with cropped jet-black hair swept into the reception salon, followed closely by her driver struggling with several pieces of Prada luggage. Ah. Dear Mavis Perkins, in the latest Armani, of course, with a limited edition Bottega tote over her shoulder. Nadia smiled as she observed the entrance of one of her regular and most demanding guests.
She thought about the time, several years before, when Mavis had first come to Lavender Lane. After having reigned as a superstar model for years, she had just given up her career to marry Tyler Perkins, one of Chicago's wealthiest and most influential real estate magnates. The stories of how she had persuaded him out of his first marriage were legion, all testaments to her ability to satisfy a man who had been famously satisfied by the best.
Mavis was always a favored topic of gossip among the guests–her countless affairs, including one with a powerful politician who had his eye on the White House and, of course, the reckless spending of her husband's seeming limitless money–were juicy fodder for wagging tongues. Although Nadia never encouraged such conversations, the rumor mill almost always extended to her office. Current chat was about Mavis's desire to capitalize on the growing popularity of older models and return to the fashion and beauty scene in a big way. At fifty-two, she was still remarkable looking and had the connections and moxie to make it happen.
Indeed, Nadia thought, just what our deprived world truly needs — another dose of Mavis Perkins. She wondered how The Grand One would react when told she would not be getting her regular suite. Nadia could feel the venom already.
An angelic-faced woman dressed in a hot pink sundress, her head supporting a cascade of blonde curls, entered the salon. Nadia watched as the woman turned repeatedly to the teenager who trailed behind her, long, chestnut hair falling below her midriff-baring T-shirt, skimming the waistline of her cut-off jeans. The girl was tall and thin and a budding beauty.
"New clients from Dallas," Nadia's assiduously guarded notebook detailed. The depository of all important and personal information, the notebook was locked up in the safe each night and available only to Nadia and her long-time assistant director Phoebe Bancroft. Only the most rudimentary information was entered in the spa's computers, where it was vulnerable to hackers who, in a heartbeat, would sell her clients' most private information to the highest bidder.
"Let's see," Nadia sighed. Charlotte Tanner and daughter Lauren Fanning. Mother, 42—overweight. Daughter, 15—borderline anorexic. They hadn't even begun their stay and were already arguing. She wondered how the pair would survive ten days sharing a room.
There was only one woman yet to arrive: First time guest, the notebook detailed. Antoinette Etheridge…called Toni. 41. Single. Former buyer, designer sportswear, Gillam's Fifth Avenue. Extremely stressed. Another one, Nadia thought. There had been a growing roster, of late, of female executives who had made too many personal sacrifices and had badly injured themselves emotionally and physically in a relentless quest to make it to the top. She could relate. She had given up a great deal in pursuit of her career.  Lavender Lane had not come easily.
Nadia felt the familiar, flood of fatigue course through her body. She turned away from the mirror, leaning heavily on the arm of her well-worn, violet tufted Queen Anne chair. The exhaustion that had plagued her in the last few weeks was intruding once again. I cannot afford to be tired now, she sighed to herself. Simply too much to do…lawyers, papers…Peter.
She walked slowly to the large picture window on the far side of her office, the vestiges of an injury sustained many years prior marking her graceful gait. Her damaged ankle was a constant reminder of the life she had once lived, and of the different direction her life could have taken had she just had the courage. Nearly fifty years had gone by, but almost daily she had been plagued with gut-wrenching remorse. The guilt had recently grown too great to bear, and she knew the time had come to finally make amends. If she had any doubts that time was of the essence, her diminishing strength served as a constant reminder.
Time, she mused, adversary to all. Nadia thought about her dear friend Dr. Eleanor Franklin, CEO of Franklin Nutritionals.  Eleanor must be going mad up there in her suite all alone without anyone to talk to.  She'd have to make time to see her — perhaps have dinner sent up for the two of them. Eleanor had been secluded in her Lavender Lane rooms for nearly three weeks, recent plastic surgery having not quite delivered the hoped-for results. She assured Nadia that she had done her research and had gone to the very best, and yet, twenty-one days after the operation, she still had that pulled and pinched look, when she fully expected to look rested and refreshed. The doctor had promised it would ease up, but as each day went by, Eleanor feared she would remain looking more like some older sister of the late Joan Rivers than her former, attractive fifty-five-year-old self.
Nadia looked out the window and drank in the view of the lush Coachella Valley. It was especially beautiful in early spring, with the hills drenched in brightly colored wildflowers and the blue sky shining brilliantly behind centuries-old Saguaro cacti. She watched as a roadrunner darted its way across the field, crown feathers forging ahead like a sentinel in the warm April air. Soon he would be joined by owls, hawks, hares, and jackrabbits, all answering the valley's seductive call.
She was tempted to stand there and look out all day, but it was hardly an option. She had a business to run and, lest she forget, the dreaded intercom buzzed to remind her. She reluctantly returned to her desk, certain the summons could only mean problems.
"What is it?" she asked, trying not to allow the fatigue to color her voice. "As to be expected," her Assistant Director Phoebe reported in her distinctive British voice, "the difficult ones are showing their colors."
Nadia smiled at Phoebe's choice of words; language commonly used to describe the aggressive mating behavior of male creatures in the wild. Her clients were, indeed, like the inhabitants of the Palm Springs desert, each with her own agenda and unique survival techniques. Phoebe always managed to put things in perspective. She was a treasure.
"There's a situation which needs your attention," Phoebe whispered into the phone.
"Yes," Nadia said, looking down below. "Mavis appears to be in fine fettle…but nothing that can't be handled. I'll be right with you."
As mistress of Lavender Lane, Nadia Demidova had managed to tame scores of situations. This would be just one more. She took a few deep breaths, smoothed her neatly coifed silver-gray hair and made her way toward the discreet staircase that would deliver her to the concerns unfolding in the arena below.