Contemporary fiction with a speculative element
Date Published:
May 14, 2020
Publisher:  Black Rose Writing
No one knew it at the time, but April 19, 2011, was the most important day in the history of the world.
After his only friend and colleague, John Manta, disappears without a word, Dave Randall further entrenches himself in the humdrum life of an unenthusiastic lawyer. But once he begins to understand what happened, he embarks on a journey to uncover the deeper meanings and implications of John's fate.
Accompanied by Peaches the cat, Dave uproots his life and reinvents himself in the midst of his search. Along the way, he is haunted by his piecemeal understanding of John's fate and what it means for his existence. Little does Dave know, his journey of self-discovery will have ramifications that extend far beyond the borders of his own little life.
No one, let alone me, realized it at the time, but April 19, 2011, was the most important day in the history of the world. Probably of the entire universe. As I lived it, though, the day actually kind of sucked. My morning started in a packed courtroom in Jamaica, Queens, filled with attorneys donning cheap suits ranging from dark blue to dark gray—a rainbow for the colorblind. The day would have been considered hot in July, but it was downright inhuman for April, and many of the lawyers in the room (particularly those on the heavier side) were trying (and failing) to will themselves to stop sweating. As I waited for the judge to emerge and the calendar call to begin, I found myself wedged on a long bench in the gallery between two such attorneys. The lawyer to my right had given up any pretense of dignity and was furiously using his tie to mop his damp forehead. I squirmed in misery and glanced down at the thin file I was carrying, noting the plaintiff's name: Abramson, Jack. At least I'll be one of the first to get called, I thought, assuming an alphabetical call. I could have confirmed this by checking the calendar that the clerk had posted by the door to the courtroom, but that would have involved climbing over a number of attorneys to get out, and I wasn't that curious about where my case sat on the court's schedule.
Justice Marder, a thin, stern-looking judge who looked to be in his eighties, eventually hobbled out from his chambers to take the bench. He looked angry from the get-go; the simmering fury of a man struggling to reconcile his significant power with the fact that even he could not avoid spending the blistering morning in a non-air-conditioned room (in a clingy black robe, no less). In the silence that washed over the room as the judge limped slowly to the bench, I suddenly heard a small plop, followed by another. Looking down, I saw two dark spots slowly expand on the redweld folder containing my litigation file—an inadvertent gift from the dripping attorney to my left. Annoyed, I cocked my head and threw him a perpendicular glare, which he seemed to receive.
"Hot in here, right?" he whispered, chuckling nervously. I didn't respond. I had a longstanding rule of ignoring any comments made in my direction relating to temperature or the weather.
The calendar was finally and mercifully called. My case was not only one of the first to be announced, it was the first. Had I planned ahead a little better, I would have fought harder for an aisle seat. But I didn't, and, as a result, it left me with an undignified climb over ten attorneys to escape the row and make my way to the front of the courtroom. Even though it was a slightly longer route, I opted to go left, solely for the opportunity to shove my ass into the face of the attorney who had dripped all over my file.
I was surprised when the judge directed me and my adversary to approach the bench rather than take our places at the standard tables assigned for the plaintiff and the defendant. When I arrived at the bench, my adversary—a kind-looking bald man in his mid-sixties—stood waiting for me. "Kind-looking" isn't typically a profound description, but in this profession, it's a rarity. The lawyer smiled at me and actually threw me a wink, which I returned with a taut nod. Justice Marder asked us about the status of the case, and the plaintiff's attorney filled him in. As he spoke, the judge's eyes narrowed more and more until they were thin slits of pure malice aimed squarely at me. It dawned on me that this would be an unpleasant conference, and, like many other instances in my legal career, I wished I were a little more prepared than I was, which was none. None prepared.
---
About the Author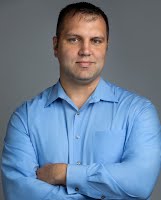 When he is not writing, Daniel Maunz works as in-house counsel for a major insurance company. He currently lives in Sullivan's Island, South Carolina, with his wife Lynne, their son Patrick, and their two cats: Admiral Meowy McWhiskers and Captain Cutie (or "Admiral" and "Captain" for short). Questions of Perspective is his first novel.